Clayscapes are painted using water with minerals, oxides and ceramic stains added to it.  The brush work is done on stoneware that is rolled and then totally air dried.  Working on the hard, brittle clay I paint directly on the surface of the clay, which due to the dryness wicks the "paint" immediately.  Following this the clay is fired in the kiln to a high temperature and the colors are set for life.
Clayscape tiles are then attached to carefully and individually selected pieces of locally harvested hardwoods.  The hardwoods are milled and kiln dried by Urban Lumber in Springfield, OR.
I began to do painting on clay when I had a very, very dry slab of clay in the studio and I did not want to toss it in the recycle.  I grabbed some oxides, water and brushes and after spraying the dry clay with a coating of medium that would prohibit the oxides from soaking into the clay I painted the Painted Hills large slab.  A few weeks after this PJ called and it was a perfect fit to continue to paint a painting a week for the summer of 2009.  I was not sure what the final outcome would be, or how they would fire or how I would hang them!  On the first 8 I had to wait till the firing to know if they would be useable.
After they were all fired I went to Urban Lumber.  This store is full of wood slabs that invite the imagination. I knew the wood would "talk" to me and it did. I left with Black Walnut, Big Leaf Maple and later Norwegian Maple.   I brought the wood back to the studio and began the adventure of mounting the clay paintings.  This was getting to be mixed media!
With some experimentation the pieces came together. It all proved to be very satisfying.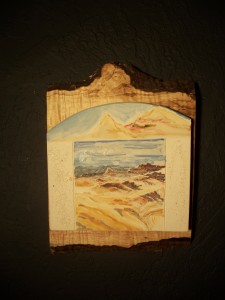 Death valley:Â  Telescope Peak, Death Valley
The oxides I use are the same ones that color the rocks in Death Valley.
This peak is a challenging hike but well worth the effort.
The blue mountains in the distance are the Sierra Mountains
High fired stoneware clay, colors produced by use of oxides, stains. Mounted on Big Leaf Maple from Urban Lumber
$145.00